Joker Recommends
-Top 20 List
-House of Flying Daggers
-The Aviator
-Bad Education
Yun-Fat Recommends
-Eight Diagram Pole Fighter
-Los Muertos
-Tropical Malady

Allyn Recommends
-Eternal Sunshine of the Spotless Mind
-Songs from the Second Floor

Phyrephox Recommends
-Top 20 List
-Design for Living (Lubitsch, 1933)
-War of the Worlds
-Howl's Moving Castle
Melisb Recommends
-Top 20 List
-The Return
-Spirited Away
-Spring, Summer, Fall, Winter...And Spring
Wardpet Recommends
-Finding Nemo
-Man on the Train
-28 Days Later

Lorne Recommends
-21 Grams
-Cold Mountain
-Lost in Translation

Merlot Recommends
-Top 20 List
-The Man on the Train
-Safe Conduct
-The Statement
Whitney Recommends
-Femme Fatale
-Gangs of New York
-Grand Illusion

Sydhe Recommends
-In America
-Looney Tunes: Back In Action
-Whale Rider

Copywright Recommends
Top 20 List
-Flowers of Shanghai
-Road to Perdition
-Topsy-Turvy
Stennie Recommends
Top 20 List
-A Matter of Life and Death
-Ossessione
-Sideways
Rodney Recommends
Jeff Recommends
-Dial M for Murder
-The Game
-Star Wars Saga

Lady Wakasa Recommends
-Dracula: Page from a Virgin's Diary
-Dr. Mabuse, Der Spieler
-The Last Laugh

Steve Recommends
-Top 20 List
-Princess Raccoon
-Princess Raccoon
-Princess Raccoon
Jenny Recommends
-Mean Girls
-Super Size Me
-The Warriors

Jason Recommends
Lons Recommends
-Before Sunset
-The Incredibles
-Sideways


(c)2002 Design by Blogscapes.com

The Blog:
Johnny Eager
Johnny Eager
, 1941, MGM (starring Robert Taylor, Lana Turner, Van Heflin and Edward Arnold; directed by Mervyn LeRoy)
MGM wasn't known for crime dramas or gangster pictures; that was Warner Bros. territory. MGM was famous for its big budget epics and its sophisticated leading men and women. Johnny Eager doesn't look like other gangster movies of its time as a result -- it doesn't have the gritty realism of
The Public Enemy
and
Angels with Dirty Faces
or the seediness of Little Caesar. MGM provides the genre with a bigger budget for flashier-looking sets, and glamorous leads in the form of Robert Taylor and Lana Turner.
Johnny Eager (Robert Taylor) is a racketeer looking to break the big time with his new dog track, but is getting heat from District Attorney Farrell (Edward Arnold). He is further distracted by a love affair with Lisbeth (Lana Turner), an uptown society girl who just happens to be the D.A.'s daughter, double-crossing underlings, and rival mobsters.
Like most gangster pictures, this is a story of moral redemption that comes too late. Johnny is not a nice kid who just fell in with the wrong guys, he's not a basically good guy who was tempted by the easy money of organized crime, and he's not just trying to make enough dough to get his mom that operation she needs. Johnny Eager is thug and a criminal. He's on top because he looks out for himself and himself alone. He trusts no one, and he's not above using those closest to him to get what he wants, including Lisbeth.
From the start of their relationship, Lisbeth is clearly out of Johnny's league – not just because she's a rich society girl, but because she's a nice girl, and an educated one at that. When they first meet, she quotes Cyrano De Bergerac to him (not a randomly chosen piece, that). He's intrigued by her because she's a challenge and a change of pace; she's attracted to him because he's thrilling and dangerous. She just doesn't realize how dangerous.
No sooner do she and Johnny hook up than she starts trying to reform him. She is even so charmingly naive as to postulate aloud that maybe the reason he went down the crooked path is that he never had a dog when he was a kid. She trusts Johnny implicitly; she believes him when he says he loves her, and that's what makes it so easy for him to take advantage of her.
Lisbeth is, in fact, very much like Johnny's improbable pal Jeff Hartnett (Van Heflin), the well-educated and verbose right-hand man who tries to dilute his self-loathing with a brandy bottle. The movie never makes it clear exactly how these two guys became friends, but it spends a good deal of time dissecting why they remain friends. Johnny keeps Jeff around because, as Jeff puts it, "even Johnny Eager needs one friend." Jeff clings to Johnny for the same reasons Lisbeth does -- because he's attractive and powerful, and because Jeff and Lisbeth both see something in Johnny that even he himself doesn't know exists: a loving heart. Jeff tries to act as a sort of moral compass to Johnny, but usually all he gets for his trouble is some harsh words or a belt in the mouth.
When D.A. Farrell learns that Johnny Eager is seeing his only daughter (indeed, that he snatched her unceremoniously from the arms of her upright, staid, rich and extremely dull fiancé), he calls Johnny into his office for a warning: leave Lisbeth alone, or he'll personally see to it that Johnny will be sent back up the river. Eagle-eyed movie fans will recognize this scene as the one Steve Martin used in his landmark detective spoof
Dead Men Don't Wear Plaid
.
Johnny, not one to accept threats lightly, plays the ace up his sleeve. He stages a fake murder, makes Lisbeth believe she's killed the man, and promises to cover it up. Then he goes to the D.A. and threatens to spill it all unless Farrell lifts the ban on his dog racing track. Farrell is appalled, but admits that Johnny's got the upper hand and relents.
Finally, things are going Johnny's way. His dog track will open on time, his double-crossing associates have been dealt with -- permanently -- and he's got the D.A. off his back. The only thing that can stop him now is his conscience, when he discovers that he has one.
Lisbeth, tortured by guilt over her "murderous" act, is on the edge of a nervous breakdown when Johnny finally comes to see her, and when he realizes what she's prepared to sacrifice because she loves him, something finally clicks inside of him. He confesses to her that the murder was a fake -- the gun was loaded with blanks, she didn't kill anyone, the man she shot is fine and walking around as if nothing happened. But she thinks he's just trying to ease her conscience, so he sets out to prove it to her.
The plot becomes muddled in the end, with more double-crossing henchmen at the last minute, leading to a pitched gun battle in the street, but not before Johnny has righted all his wrongs and sent Lisbeth back to the stable and loving arms of her dull fiancé, for her own good.
Despite the hurried feeling of the last ten minutes or so, this is a well-crafted story with some very nice plot touches along the way. There is a recurring motif with an honest cop, Badge No. 711, who is troublesome to Johnny's gambling rackets. Lisbeth's reference to Cyrano early on in the film serves as a kind of thematic backdrop -- just as Cyrano denied his love to spare Roxanne, Johnny pushes Lisbeth away because he knows he's no good for her.
Performances are all top-notch, from the leads on down to Connie Gilchrist and Robin Raymond in one brief scene as Johnny's aunt and young cousin. The only weak link might be Robert Sterling as the hapless cuckolded fiancé, but his role doesn't give him much to do but stand around and look like a martyr. Lana Turner is breathtaking to look at, and her acting ability never fails to catch me off-guard. Robert Taylor is a commanding presence as Johnny and Edward Arnold does his typical rich-white-conservative guy -- if you've seen him in any other movie, you've probably seen him play the same role. But it's Van Heflin who marches off with the acting honors (and the Academy statuette) as the tortured, philosophical lush.
Director Mervyn LeRoy draws on his experience with gritty crime dramas such as
Little Caesar
and
I Am a Fugitive From a Chain Gang
, and infuses it with typical MGM gloss. It's a cleaner, less dangerous-looking underworld, but what it loses in violent realism, it makes up for in an intellectual bent that Warner Bros. couldn't match. Unfortunately, not yet available on DVD.
City of God
The opening (and for the most part, closing) scene of the new Brazilian film
City of God
reminds me of a scene in the one Boetticher Western that I did not write a review for, the hilariously absurd
Buchanan Rides Alone
. Towards the end of that movie, one character is sent out onto a short bridge to retrieve some money left in some saddlebags. The catch, the bridge smack dab in the middle of two sides with guns drawn, each threatening to kill the poor shlub who was sent out to retrieve the money in the first place. That kind of damned if you, damned if you don't attitude permeates the newer, Brazilian crime film; hell, at one point the narrator of the film, Rocket (the character being based on the photojournalist and novelist Paulo Lins, whose book the movie is based upon) aptly sums it up: "If you run away, they get you, and if you stay, they get you, too." He's of course referring to the criminal gangs, comprised mainly of local children and teenagers, which wage almost open warfare in the Rio de Janeiro favela of Cidade De Deus ("City of God"). Probably one of the most ironically named bureaucratic feats in recent memory, Cidade De Deus was the product of a conservative government which wanted to get the poor, and mainly black residents of the Rio De Janeiro slums out of the way, so as not to upset the tourists. Then they were pretty much forgotten, cast away with little or no material comforts or opportunity, and with even less and less space, as the government kept up it's relocation program, jamming more and more people into the crowded favela (in the film, which spans two decades, from the 1960s through the 1970s, the Cidade De Deus transforms itself from a dusty collection of nearly identical bungalows into a grimy, concrete slum, or as Rocket puts it, from Purgatory to Hell), where they were at the mercy of gangs or the corrupt police force (apparently, the Cidade De Deus is so violent, that the movie had to be shot in other, relatively less violent, neighboring favelas in Rio).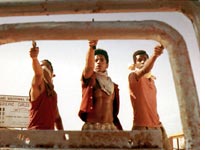 At it's most basic, the movie is an example of a well-trodden genre, the precipitous rise and fall of the gangster, in this case, the sociopathic cocaine kingpin known as Li'l Ze, as seen through the eyes of Rocket, a good kid trying to just survive and to get laid (his own attempts at crime are comedically inept). The film traces Li'l Ze from when he was a kid in the 1960s, known as Li'l Dice, whose older brother, along with Rocket's, was part of a Robin Hood-esque gang of inept robbers nicknamed "The Tender Trio." Then it's onto the 1970s when Li'l Ze takes over the drug rackets in the Cidade, leaving only him, and a white dealer named Carrot, to vie for total control. A vicious rape leads to an ever escalating gang war, culminating in a final chilling bloodbath, as the formerly powerful Li'l Ze is gunned down by a gang of 10 and 11 year olds, beginning the cycle of violence anew (the final shots of the film are of the bunch of kids, known throughout the movie as the "Runts" walking down the street, brandishing automatic pistols, discussing who they should kill next). There's even a certain mystical quality to the narrative; Li'l Dice is christened Li'l Ze by some sort of witch doctor who gives him a talisman and promises him power, but only if he refrains from fornicating while wearing the talisman. And, of course, it is the rape which leads to his downfall, by prompting Knockout Ned, an ex-soldier, to join forces with Carrot (which leads to a seemingly never ending cycle of revenge, death, and more revenge). The story of the film is of course, based on actual events and people, at the end of the scene, we are treated to still photos of most of the principal characters, as well as a short TV news interview with an imprisoned Knockout Ned, an interview which is actually re-created, quite faithfully I may add, in the film itself.
In many ways, the character of Li'l Ze reminds me of the protagonist of De Palma's
Scarface
, certainly a cinematic touchstone for just about every crime/drug lord film of the past twenty years. But while De Palma was looking way back in the past with his remake,
City of Gods
director Fernando Meirelles (also, depending on which review or article you read, Katia Lund is sometimes credited as co-director, she is a documentary filmmaker who had worked previously in the favelas, and worked with other collaborators to train the many non-actors who comprise the films cast, many of whom are actually from a local theater troupe organized from the youth of the Rio favelas, Nos de morro) sets his eyes on more recent cinematic history, specifically films like
Goodfellas
and
Pulp Fiction
. Like the former film,
City of God
shares a constant, very detailed voice-over narration describing the in and outs of the Cidade de Deus's history and culture with an almost anthropological eye (I dryly remarked to a coworker today that I now know how to run my own ruthless, street-level narcotics gang); the big difference is that Henry Hill was an intimate player in
Goodfellas
, while Rocket, other than being a witness, or better yet a survivor, is almost incidental to the events of the story, giving the whole thing an air of detachment.
Meirelles, a former commercial director, creates a kinetic and violent narrative, using just about every trick in the book both old a new, in a self-consciously flashy manner, which could quickly become tiring if it wasn't an example of bravura filmmaking, or anchored to an interesting story (it also helps that Meirelles, who also works with a huge cast of largely non-professional child and teenage actors and a complicated narrative, knows how to slow down when appropriate to a scene, like in the many bedroom or beachside interludes)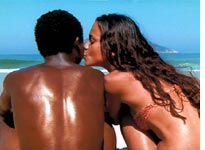 . One of the best examples is the oft talked about opening sequence: a propulsive, expertly cut montage that plunges you right into the thick of things (quick cuts of a knife being sharpened, chickens running around, the smiling cocksure menace of Li'l Ze, heavily armed children openly parading around with guns) before enveloping Rocket into the affair (the stand-off between the police and Li'l Ze's gang that I mentioned in my opening paragraphs) quite literally, with a digitally-enhanced 360? swoop around Rocket showing just how screwed he really is, before morphing into the one of many flashbacks (this to both Rocket and the favela's childhood).
Other scenes that I specifically notes includes the death scene of Shaggy, the ostensible leader of the Tender Trio, fleeing the police, running full stop through the narrow alley ways of the closely-bunched bungalows, as his girlfriend (and camera) watches from a car barreling down the dusty road at an equal speed. Gunned down by the police, more interested in vengeance than justice, for a crime that was actually perpetrated by the already psychotic Li'l Dice/Li'l Ze, it's a scene that is almost lyrical in it's intensity, an artful, almost romantic, not quite blaze of glory, which punctuates the conclusion of both the narrative and historical era of the 1960s, a time of relative innocence.
It is also demonstrative of the range of violence that Mierelles depicts (and there's lots of it, especially after the gang war starts, and the bodies of anonymous children, foot soldiers in the war, begin to line the streets), especially compared with the other scene that readily sticks out in my memory, when Li'l Ze enraged by the delinquency of the Runts, decides to take action, to mete out his own particular brand of justice. In a completely cold-blooded scene, Li'l Ze and his gang manage to capture two of the smallest members of the Runts, offering them a stark choice, either get shot in the hand or the foot. One, the youngest looking, sobbing like the baby he nearly is, tentatively holds out his hand, while the other huddles in the corner; Li'l Ze makes the decision for them, shooting each in the foot (all accomplished in a series of close-ups). Then Li'l Ze is overcome with "inspiration," deciding to test the mettle of his youngest follower, an errand boy nicknamed Steak N' Fries (basically he's the food gopher for Li'l Ze and his top lieutenant, the more intelligent, diplomatic, and carefree Benny, probably the second most sympathetic character in the film, despite his hoodlum status, as he is the only one who can keep Li'l Ze in check, is rather good natured, loves his girlfriend, Angelica, who incidentally Rocket has a crush on, and who is played by Sonia Braga's niece; you could see him being successful in almost anything in life, if he wasn't born into a crime-ridden slum; his death is doubly tragic because one, he wasn't the intended target of the assassin's bullet, and two it allowed the maniacal Li'l Ze to be fully unleashed) by having him shoot one of the kids. Steak, almost shaking, with the gun too big for his hand, hesitates (he is shot in a low angle shot, almost from the POV of the most likely victim), but ultimately shoots the tired one in the head in an almost casual manner, mostly like too numb and too afraid to do anything else. It's a hard scene to watch, given how Mierelles draws out the scene, and especially with Li'l Ze's flippant commands to the surviving Runt, and it prompted the woman sitting behind me to finally walk out (also in narrative terms, this event, is the reason why the Runts finally exact vengeance on Li'l Ze at the end of the film, heavily armed, they mercilessly riddle Li'l Ze with round after round of bullets; ironically, they were armed by Li'l Ze to act as soldiers in his war with Carrot).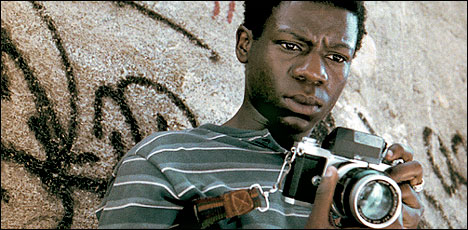 But what makes the film really interesting is the narrative, which is the film's most inventive aspect (I probably should not generalize so much, but I did remark to phyrephox on AIM that it seems like Latin American filmmakers who crafted films like
City of God
and
Amores Perros
have been the only ones to really successfully take the narrative techniques popularized by Tarantino, and extrapolate and create new derivations, instead of just aping conventions such as just moving the story out of chronological order for the sake of doing so). Rocket, the ever knowledgeable narrator guides us through a narrative which is constantly looping back on itself (and often broken up by episode titles), revealing additional information, or information from a different, previously unknown perspective.
A case in point would be the multiple takes on the Hotel Miami robbery, which the Tender Trio perpetrates at the urging of Li'l Dice; we see the robbery from the Tender Trio perspective, but the narrative returns to the scene again and again, revealing more information (first we get some quick shots of the bodies, even though we hadn't seen any of the Trio actually kill anyone, then we see what really happened, as Li'l Dice gleefully gunned down everyone he could find), adding detail and explaining events. Another example is how the film reveals the true nature of Knockout Ned's killer. After watching the film, I thought to myself, it's almost structured like I think, with digressions onto tangents, focus on details, starting and stopping, and relooping back onto to previous subjects. My favorite narrative technique is almost like the cinematic equivalent of a really informative footnote, as Rocket, traces the history of this or that person or place. The exemplar of this narrative trait is the episode where Rocket recounts the history of a local apartment used by several "generations" of drug dealers; in probably around a minute of screen time, you get a full, complex history of one particular apartment and the people who lived there (it also introduces one of the movie's most pivotal characters, Carrot) using a combination of dissolves and voice-over. It's great stuff, and I loved the attention to detail and atmosphere (again, it reminds me of Scorsese and his penchant for an almost anthropological focus on detail).
An article in the January 2003 issue of
Sight & Sound
drew parallels between the film's usage of non-actors drawn from the favelas to make the movie, and the figure of Rocket, who essentially escapes the favelas through his talent for photography (or more by accident, since he's really the only way that the Rio media can get into the Cidade Des Deus). While the reason for his escape is elucidated, Rocket's reasons for never being drawn into the life of crime are really never made clear, even after a close association with several of the pivotal criminal figures in the favelas crimeworld, especially Benny, who became something of an older brother to Rocket (Rocket's own brother was gunned down by Li'l Dice, a scene that the film returns to twice, each time supplying more information). It must have been a combination of fear, first of his father, and then of the gangs, and ineptitude. So while living in the fray, he's also above it. I would say his detachment grows even more once he gets behind the telephoto lens of the camera supplied by a local newspaper (they make him an intern, instead of a reporter); the final gun battle is mostly depicted from the POV of his lens, being not quite an actor in the drama around him. He even fully captures the complicity of the police force in the crime swirling around him (as the police, the best of whom are on the take, the worst of whom are the supplies to the gun dealers who bring Rugger automatic rifles and Uzi submachine guns into the favelas), though he's faced with the resignation that those photos could never see the light of day, despite the media frenzy that the colorful and violent gangwars had created (the poor, largely black denizens of the Cidade, being the quasi-mythical Other to the middle and upper class whites of Rio, especially after Li'l Ze takes to having his photograph taken by Rocket in dynamically composed shots with his gang and their heavy weaponry). In some respects, you could say that the runaway success of
City of God
in Brazil is symptomatic of this same fascination, but its nice to know that some of the larger picture is not obscured anymore (and from what I've read, the film has actually caused some controversy and policy review in the government).
The Crime of Father Amaro
Truly controversial movies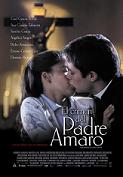 are so rare these days in the cineplex that it becomes tiresome to watch distributors market their movies as racy simply for PR reasons (remember
Eyes Wide Shut
?), an especially irritating tactic when it is clear that a film like
Irreversible
does not even need to be marketed because it is so disturbing that word spreads about it on its own.
The Crime of Padre Amaro
, Mexico's bid for the 2002 Best Foreign Film award and marketed with the tagline "one of the most controversial movies ever", is certainly trying to bank on the false perception that the material is somehow riot inducing. Yes, it is about a Catholic Father (
Amores Perros
and
Y Tu Mama También
heartthrob Gael García Bernal) sleeping with an underage girl (Ana Claudia Talacón)-though the age difference is never stated and both actors look roughly the same age-and yes, it is about the corruption of the Catholic Church. Maybe someone should have told the filmmakers that this is 2003, and that the source novel is over 100 years old, and that these themes (corruption in the Church, well I never!) are real old hat, and especially old hat in face of the child molesting charges the Church faced around the time The Crime of Father Amaro was released.
Not one member of the Church, from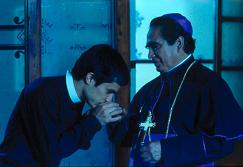 the parishioners all the way up to the local bishop are clean in this movie, and their crimes range the gamut from the pedophilia implied with Father Amaro, to using drug money to fund a hospital, advocating abortion, pre-marital sex, gluttony, fornication, and supporting local guerillas. The film certainly paints a depressingly nonchalant picture of the state of the modern Church, but since all of the Catholics in the film appear to have no conflict between their fanatical devotion to the faith (Ms. Talacón practically has a heart attack when her boyfriend verbally slips and admits to not believing in God…) and their actions (…yet she has no problem sexually seducing Father Amaro) the movie comes off less as a criticism of the strictness or antiquated edicts of the Church than simply a large catalogue of the pitfalls that Catholics fall into in a rather rural, poorly supervised community.
The fault of
The Crime of Father Amaro
, with its indictment of an entire Mexican church going community, lacks is any sense of conflict. Each character leaps from emotion to emotion with no evidence of a conflicting bridge: in a blink of an eye Amaro jumps from pious, earnest devotion to suddenly deflowering a young girl under the guise of training to her to be a nun. Similarly, the Bishop speaks against Church involvement with guerrillas and then okays using drug funds, a Father denounces Amaro's sexual relationship yet has a similar one himself, and so on with almost every actor with a speaking role. The affair between Amaro and the young girl, supposedly the highlight of the film, would appear to be youthful lust out of control if only every other character in the film, all much older than them, wasn't just as foolishly hypocritical as they are. Nobody seems to have a problem with their double standards, not even Amaro, who for the first hour of the film gives the impression of the exact kind of sincere, devout youth that the Church would use to stave off the corruption in such small towns.
The controversial sex between the two youths is passionless as it is pointless because it is unclear what is driving these people to be as sinful as they are religious. With the exception of one particular Father who staunchly wants to preach the word of God regardless of intersession from Church elders, every single character in
The Crime of Father Amaro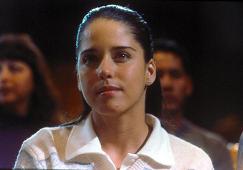 is in the same situation of beliefs conflicting with actions, yet this conflict is only visible to the audience as none of the characters seem to be aware of the deep hypocrisy in front of them. This total vacuum of self-awareness in every single character in the film world is what prevents the movie from making any kind of intelligent comment on the current state of the Mexican Church. As the film is so sloppily spread out across characters in nearly similar situations, The
Crime of Father Amaro
places some kind of blame on everyone and cannot bring itself to focusing on its title character-which seems like yet another irritating marketing jab to draw attention to the film's "controversial" indictment of the Church clergy. The entire cast is shortchanged by a script that gives everyone involved banal roles that lack the kind of dynamism that could have made the movie a study of temptation in the clergy, or upholding unrealistic laws in unusual situations, or how clergy corruption affects its parishioners or visa versa. Yes, Talacón and Bernal look good together half naked, yes, every single Catholic in the movie appears somewhat dirty, but what the
The Crime of Father Amaro
does is leave a slight aftertaste of anger not at the Church but at these people in the movie who do not seem to understand what the hell they are doing or why they are doing it. With a film this stale the effect of the movie's own shortcomings on its character portrayals is just about the only thing of interest, and that is saying a lot about a movie supposedly about a scandalous passion of youthful indiscretion.
Question of the Week
Well, I was going to write my thoughts about
City of God
, but I got lazy and started too late, so that will have to come later. So for now I've decided to post a new question of the week; remember, the question is open to all blog members and all of our readers. Try to keep your initial response to one comments entry, or about 2500 words. This week's question has been inspired by the rash of negative reviews that have been posted on the blog in recent days:
The Hours
,
Bend it Like Beckham
,
The Hunted
, and
The Life of David Gale
have come in for some bad raps lately, and we've also seen some mixed reviews of
Gerry
(though this was still positive) and
Irreversible
. The question I'm about to propose was prompted by some of the comments surrounding
Bend It Like Beckham
(and forgive me for using the crude categories of "art film" and "popular cinema"), but my question is:
What is worse? An art film which fails, or a popular film which fails? Why?
THE LIFE OF DAVID GALE
A lot of reviewers have criticized the
The Life of David Gale
for being too one-sided and preachy. I don't really have a problem with a film being one-sided. There's nothing wrong with having a point-of-view, especially about an issue you feel passionate about. No, my problem is not that the film attempts to stack the deck against the death penalty, but that it does so with such utter incompetence. In a film where all the "smart" people are against the death penalty and all of its advocates portrayed as redneck idiots, you'd think that someone could articulate a coherent and persuasive argument against state-sponsored executions. Hell, I'd have even taken a preachy argument. Instead, the film is premised on the ridiculous notion that one of the most persuasive arguments against the death penalty is one that can't be made. Many
SPOILERS
follow.
While helping David Gale prepare for a debate with the governor of Texas, Constance Halloway (Laura Linney) his professor colleague at the "University of Austin" (I like to think that the University of Texas refused to permit its name to be associated with this dreck, even while allowing scenes to be shot on its campus) and the eventual murder victim, tells him not to make the argument that innocent people are sentenced to death. If he points to anyone who's innocence was discovered prior to execution, the governor will simply say that's proof that the system works -- like that's an answer for which there is no response. Highly educated death penalty opponents, much sharper than the yokel of a governor, could not possibly respond that DNA proof of innocence is, in fact, evidence of the failure of the jury system and appellate courts and that exoneration of someone who has been wrongly incarcerated for most of his adult life and is exonerated not through any state-sponsored effort but only as the result of private initiatives such as the Innocence Project is hardly evidence of the success of the system and that such cases should give us great pause about the hundreds of death penalty cases where there is no DNA evidence. No, that argument would not occur to anyone in this movie. Instead, we're told that the only way to convincingly make the "innocence" argument is to identify a person who's innocence is not discovered until after execution. "Almost martyrs don't count." Okay, my second problem with the reviews of this film is the suggestion that the "twist" in this film, after the point this argument is made, is at all surprising. It's surprising only if the film has bored you into such a stupor that you're not thinking right and because the twist is so stupid you wouldn't ordinarily think of it.
My third problem with the reviews of this film are those that suggest that this is a pretty decent thriller until it gets derailed by a bad ending. No, no, no, no, no.
Arlington Road
and
True Crime
were pretty decent thrillers that got undermined by bad endings.
David Gale
is an absolutely feeble, bankrupt, horrible film from the very outset. Kate Winslet's character works for a magazine called "News," because the writers obviously shot their creative naming wad on Winslet's reporter: Bitsey Bloom. When Bloom and her extraneous cohort are driving to the penitentiary, she remarks, "You know you're in the bible belt when there are more churches than Starbucks." I think we're supposed to chuckle in sympathy at that comment. Now, I'm not religious and have a healthy distrust of organized religion, but you'd have to be extraordinarily arrogant not to recognize the inanity of that remark and how it feeds into every cliched perception of the elitist, northern liberal snob. Which would be fine if we're supposed to think that way about Bloom. But she's our heroine and I think we're supposed to like her or at least think that she's fair minded.
If
David Gale
fails as a polemic, it fails even worse as a thriller. There are two supposed twists to the ending. Both come as a great big "duh." Halloway was killed by being handcuffed, forced to swallow the key and a plastic bag taped over her head so that she suffocates, a technique that Gale had written about in one of his articles, although the prosecutors didn't know this. It's metaphoric -- you die knowing that the key to your freedom is inside you. (Groan.) She's bruised and they find semen inside her (Gale's) and Gale's thumb print is found on the plastic bag, so it's presumed to be a rape/murder. No motive, at least for the way the crime was supposed to have happened, is given for Gale's murder of his best and only friend in the world. It turns out that Halloway, who was dying of leukemia, killed herself and with the help of her cowboy friend, another death penalty opponent, videotaped the whole thing. The idea was that after someone gets executed, the tape will surface, and death penalty opponents will be able to point to an innocent person who's innocence was not discovered in time. Yeah, that's good. That's gonna be convincing. A couple of death penalty opponents framing an innocent person just so they can say "Aha, gotcha!" later is gonna lend a lot of credibility to their position. No one's gonna think they're raving lunatics.
Okay, this is how Bloom solved the crime. The cowboy, who has been stalking her and extraneous cohort for no apparent reason (even by the end, there's no reason for it) leaves an excerpt of the videotape in her motel room. Oh, she thinks, the murderer must still be out there and have left the tape. But, Gale's attorney points out that the tape could be a complete phony (we can't see Halloway's face). His attempt to get a stay with it is, as expected, not successful. But, the night before the execution, when she observes the towel that extraneous cohort has thrown on the bathroom floor, because, after all, it's just a crappy motel room, she has an epiphany. The towel, for some reason, reminds her of the rubber gloves that the killer had used. These are the type of gloves women wear when washing the dishes. They weren't just thrown on the counter, they were turned inside out, something a housewife would do out of habit. So they go back to the scene of the crime, Halloway's house, which is being operated as a tourist trap by a goth Sookie from
The Gilmore Girls
. Watching the videotape, Bitsey notices that Halloway doesn't immediately struggle. She's moves one leg, is still and then struggles. But they can't stop with their observation from the tape. No, they can't conclude from that that she wasn't acting like a normal person with a bag over her head, Bitsey has to reenact the crime. She actually puts duct tape over her mouth, tapes a bag to her head and handcuff herself. Not only does this confirm her belief that Halloway killed herself, it gives extraneous cohort an action moment when he rips the bag open. Yea! He has a purpose after all. But let's go back to the rubber gloves for a minute. I accept that we are all, under normal circumstances, creatures of habit. But am I supposed to believe that a woman who has just swallowed the key to handcuffs, duct taped her mouth and taped a plastic bag over her head is going to pause and turn her rubber gloves inside out before handcuffing herself. Somehow I think the sequence of events might take her out of her normal routine. So Bitsey, with the assistance of less extraneous cohort, breaks into cowboy's house and finds what is supposedly the rest of the tape that clearly shows Halloway killing herself. She races to Huntsville penitentiary, but we already know that her car is going to break down and she won't make it from a flash forward at the beginning of the movie. (Nice move, Parker.)
The film spends a lot of time establishing what a pile of crap Gale's life had become by the time of Halloway's murder. His adulterous wife had left him, taken his son to Spain and sold their house. As a result of a false accusation of rape by a student, he has lost his job, money, sobriety and respect -- even the DeathWatch gang won't have him any more. I guess this helps to explain why the police found him a plausible suspect, but it is even more in service of the final non-surprise. Bitsey gets the whole tape in the mail, and it shows Gale turning off the camera. Wow, I didn't see that coming. Up until then I was thinking that this good, saintly woman framed her best friend for murder and execution, without his involvement. Because there had been all sorts of character development that would support that conclusion. Not. (Yes, this film is so bad I do not consider it beneath my sarcasm.)
My fourth problem with the reviews of
David Gale
is the idea that it is in any way redeemed by good performances. I'm not surprised at Spacey. Ever since
American Beauty
, he's been chasing really bad, Oscar bait roles. I thought Winslet usually made better choices, but then she has been dating Sam Mendes lately. I am surprised, at Linney who's one of my favorite actresses. She does a good job, but no one can rise above this material. Spacey does not do a good job. He is completely unconvincing as a family man. There may be actors who can credibly utter the line "see you later alligator." Spacey is not one of them. Except for one key scene, in which she stinks, Winslet is inoffensive in what is a pretty bad role.
Shroom suggested that I draw a comparison to
Irréversible
which I also saw recently. There is at least one point of comparison.
Irréversible
contains a controversial, realistic, nine minute rape scene. In
an interview in Salon
, the director Gaspar Noé, when asked why nine minutes, responds that's how long it would be in real life. There's some validity to that point of view: it would arguably be more exploitative to minimize the brutality of the scene through temporal reduction. There is nothing prurient about the scene -- only deviants will find the scene anything other than disturbing and repulsive. Compare this with the snuff film in
David Gale
, which gets played over and over again. It's a video of a completely naked woman (presumably Linney), with a bag over her head who quietly suffocates to death. There is no bloodshed. In an attempt to convey the horror of the image, director Alan Parker has Winslet cry when she views the tape the first time. She's completely unconvincing. And I suspect that more than a few men, when watching the scene, thought, "Linney has pretty good tits." That's exploitation.
By the way, while I was not offended by the violence in
Irréversible
, I didn't like the film. I didn't hate it. It held my attention and told its simple story reasonably effectively. But other than revulsion at the two extreme scenes of violence, the film didn't make me feel and it didn't make me think. Shroom said to me that such indifference is the most damning reaction one could have to a film like
Irréversible
that wants to be provocative. I guess he's right about that.